Last week, I had the opportunity to interview Roman, our Quality Assurance engineer! His job is to make sure that there are no bugs on the website and Instabeat Connect app, and coordinates with the developers to make sure everything works well. He is also constantly testing the Instabeat unit and had some great feedback to give us! Here's a brief interview regarding his experience with Instabeat.
What is your athletic background?
"I never liked swimming before I started [using] Instabeat. I used to do gymnastics and mixed martial arts. Instabeat has made it more interesting because I can see my heart rate in real time."
What is your favorite stroke?
"Breaststroke!"
What was your experience setting up your account on the Instabeat Website?
"It was not very hard at all! All you need to do is go through the three steps of setting up your account and that is all."
What was your experience mounting Instabeat on the goggles?:
"My first time was relatively easy for me; you just need to fiddle with it until it has a good fit."
Roman uses generic goggles with a silicone casing, most of which are compatible with our Instabeat devices. Most goggles with a 1-1.5 cm plastic frame along with a silicone casing work with the device.
How is the data analysis aspect of the Instabeat Dashboard?
"It is cool and interesting to see your results on the web! I like to see my data on the graph and looking at the calories burned in my swim. After syncing, I like to see all the data on the dashboard because it gives feedback on how your swim was, helping you improve for the next swim."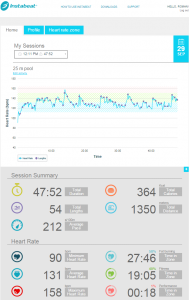 This screenshot of Roman's swim session shows a selection of data. The top section is a graph of his heart rate during his swim-it shows how he fluctuates between heart rate zones. Below that is a summary of his workout, including total duration, lengths swam, average pace, distance, and total calories burned. Below that is a detailed description of his heart activity during his workout.
What is your favorite part of Instabeat?
"It's easy to understand how it works. I like how it tracks your swimming activity real time and fits most of the goggles I tried. It's cool that you don't need to count laps and also have access to the information on the dashboard like average heart rate, maximum/minimum heart rate, calories burned, and distance travelled."
How do you think we can improve?
"Heart rate tracking and swim library could be improved. The unit will always have room for improvement because we didn't account for all possible variable conditions including different people, swimming styles and so on."
Instabeat's main aim in this area is to collect swimming session data and feedback from a variety of people using the device (including current users). We analyze all received data and make improvements in heart rate detecting and Instabeat's swimming library that includes detecting swimming styles and counting laps. The more data we receive, the better results and improvement we get.
Here is a photo of Roman testing the unit!
Happy swimming!
Natalie